Current & related Projects
James Luck and Rebekkah Schoonbeek combine to create the artistic duo of "Luck & Schooney" Together they create extraordinary shows full of passion, humour and emotion that connect with diverse audiences. Both with many years of performance and creative experience they specialise in dance theatre, creating storylines through movement, dance, and music.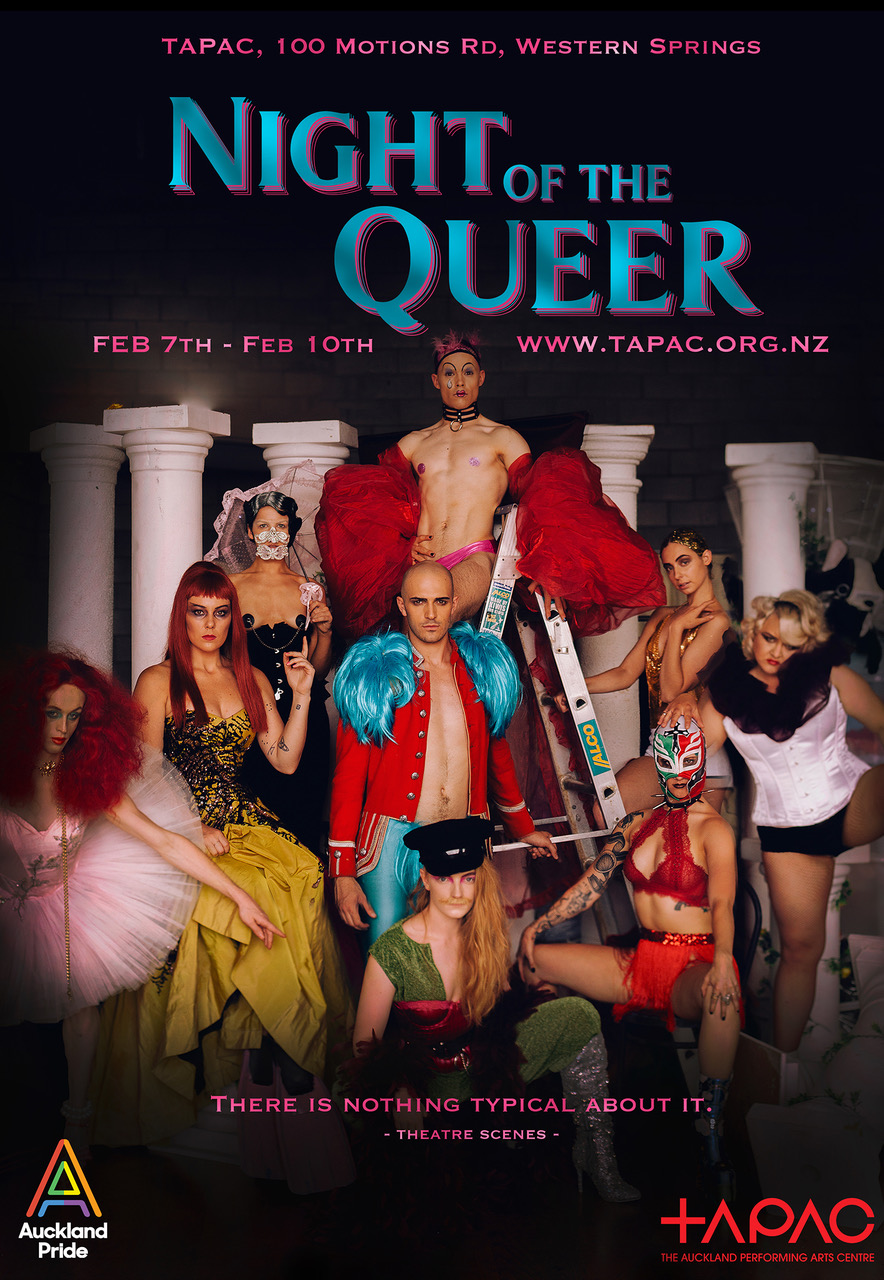 James Luck and Rebekah Schoonbeek are Co-Artistic directors of Luck & Schooney. In Feb 2019 as a part of Auckland Pride, Luck & Schooney come together to create Night of The Queer, a magical journey of discovery and love.
With characters inspired by Greek gods and goddess Night of The Queer explores the challenges of every day relationships.
Returning by popular demand James and Rebekkah once again transform TAPAC theatre into a world of gender bending acts of burlesque, cabaret, circus, music, and dance.
Snuff is a moment: A sharp intake of breath, a cake & coke smeared cabaret for the fast-living, youth-loving, devil-may-care. The last stand of the drug-addled-burlesque-club kid glitteratti. A pinch from the snuff box. In the neon glow of the final party, high heels flash against glimpses of torn fishnets & spilt champagne.
Hosted by the irreverent & insolent James Luck; featuring our burlesquers with bounce, Patty Smack & Molly Va Saahd alongside the incomparable Dudley the Douche Bear (keep your arms & legs inside the vehicle at all times); & all new performances by NZ's striptease queen Leda Petit.
Darlings, come follow us down the rabbit hole. We'll show you a real good time. Strip you right down to the bone & tidy you up just in time for breakfast.
limited season this August and September.
"The show is live, dangerous and more than anything else: it rocks!" - Brian May, Queen
The hilarious futuristic comedy musical written by Ben Elton (The Young Ones, Blackadder, Popcorn) boasts 24 of Queen's biggest hits, with the scale and spectacle that marked the band's legendary live performances. Since 2002 over 16 million theatregoers in 28 countries have rocked out to this unique musical based around 24 of Queen's biggest hits including: We Are The Champions, Radio Ga Ga, I Want To Break Free, Somebody To Love, Killer Queen, Don't Stop Me Now, Under Pressure, Bohemian Rhapsody, Another One Bites The Dust and, of course, We Will Rock You.
New Zealand 's very own Annie Crummer returns to the role of the Killer Queen, the tyrannical boss of the all-powerful global company that has robbed the world of rock music. Scaramouche and Galileo, two young outsiders, cannot come to terms with this bleak conformist reality created by the Killer Queen. They join the Bohemians, a handful of rock rebels, and embark on the search to find the unlimited power of freedom, love and rock music!

WE WILL ROCK YOU hits all the right notes …. You will be rocked." - Sydney Morning Herald
"The spectacular West End musical" - Daily Mirror
"It's deliriously, majestically, mad entertainment" -The Australian
FRANCIS'S TEETH WON'T STOP BLEEDING. OR IS THAT JUST HIS SOUL ESCAPING?
"Word of warning though - this building is alive."
"Yeah, it seems like a real hive of activity."
"No. It's a living, breathing organism that grows upward like a plant. You can never get any closer to the top, just further from the bottom. It's intelligent, you see?"
Francis's teeth won't stop bleeding. Or is that just his soul escaping? Ellie can't seem to levitate. But why is no one else even trying?
SICKO smashes together comedy and magical realism in a genre-defying call to arms for anyone needing a smack of self-belief.
A dark theatrical fable rattling the cages of a world where anything is possible, even when it feels like it isn't.
A play by Alex MacDonald. Directed by Matt Baker.
Featuring: Victoria Abbott, Angella Dravid, Zak Enayat, Jason Hodzelmans, Chye-Ling Huang, Hamish Parkinson, Ben Van Lier
https://basementtheatre.co.nz/whats-on/2019/8/13/sicko
past PROJECTS
Join Dr Ropata and Dr Warner live on stage for this affectionate parody of our iconic Kiwi TV drama.
Whether you never miss a night of Shorty Street or have never seen an episode, the ASB season of Shortland Street – The Musical is for anyone who loves a hilarious night out, a lively musical or a rollicking good Christmas panto.

The ASB season of Shortland Street - The Musical will be an unforgettable night out of side-splitting Kiwi farce and gut-busting musical numbers that will jump-start your heart. Salute a Kiwi pop culture institution by booking now for this outrageous end-of-year spectacle. It's hands down the most fun you'll have at the theatre all year!
For more information visit shortlandstreetthemusical.co.nz